Guy Lyons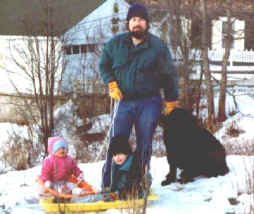 email: northwood@ime.net

location: Lubec, Maine - Easternmost town in USA

DOB: 5/17/53

Onset: JRA age 7 to 16 / Still's age 36

Other conditions: Bipolar, heart attack

Surgeries: right knee, spur

Meds: Aspirin, Relafen, Zantac, others for heart & bipolar

Occupation: disabled electronics tech/manager - ran the
Northwood Corporation until disabled.

Family: Guy II age 16, Emily age 11

Activities: Member several advocate groups for disabled
Very active on internet when able. Beach
walking, dreaming, electronics, planning
for the day when I can start my business again.
Darren McCarthy
Location: Victoria, Australia
Birthdate: 30th September, 1962
Date of Onset/Diagnosis: Onset 31 October, 1998 Diagnosis - ongoing
Other Illnesses/Health Conditions: None
Any Surgeries as a result of Stills: None
Current Medications: Prednisolone 7.5mg Panadeine (codeine)
Family: Wife of 11 years - Jennie. 3 children, son Luke age 7˝,
daughter Jaimie age 5, and son Ryan age 2˝.
Favorite Activities: Golf (not able to play at the moment) Computer,
Spending time with my kids.
Michelle Lorenz

Email: MsShelie@aol.com

Location: Corona, California

Birthdate: 2/17/64

Date of onset/diagnosis: April 1999/July 1,1999

Other illnesses/health conditions:
Fibromyalgia,Osteoporosis,Osteoarthritis,Narrowing of hip,knee and
shoulder joints.

any surgeries as result of Still's: None

Current meds:
Celebrex,Fosomax,Magnesium,Ultram,Phenergan,Premarin,Elavil,Zantac, methotrexate in November 99

Occupation: OB-Tech (on disability and looking for new profession due to Still's)

Family: Married to Gary for 17 years. 2 lovely daughters Shannon 16,
Stephanie 13

Favorite activities: Reading, going to the beach, quilting,cross stitch,
spending time with the family.
Mac
Mac with his Border Collie, Robbie
E-Mail macr@nr.infi.net
Location: Eden, NC

Current Medication: Vaseretic, Persantine, Asprin, Celebrex, Questran,
Restoril

Onset: March 1997 to April 1999, Have been in remission since April
1999

Other health problems: main ones are osteoporsos, artifical knee

Surgery as a result of Still's: None

Occupation: Retired from the DuPont Co. was a Techinacil Assistant

Family: My wife Cathy, two sons, 3 grandchildren and a Border Collie

Family Activities: Church, Cook-outs, Travel, just fun being together

Activies and Clubs: Volunteer with the Boy Scouts (40 years), Board of
Directors of Community Christian Ministries, Chairman of Board of
Trustees, Piedmont diving and Rescue Association

Hobbies: Boating, Fishing, SCUBA Diving, American History (espically,War Between the States), Stamp Colecting, Shotgun Shooting
Jerry Morrison

E-Mail: advindir@internetcds.com

Location: Eagle Point, OR.

Birthdate: 10/25/48

Year of onset: 1995 Diagonsis: Aug. 1998
Other Diseases/ Health proublems: Pleuropericarditis and Atrial Fibrillation.
Surgeries related to Stills: Pericardial window to help drainage and for testing.

Current Meds: Folic acid, Methotrexate,prednisone, Axid, Norpace, Lasix, Calcium, Asprin, Potassium, Atenolol Vit.-E, Darvocet, Celexa, Vioxx and sometimes Coumadin and Lanoxin
Occupaton: I was a Construction Supperintendent untill 1998. Now I am on SSI Dis.

Family: Wife Debra of 30 yrs.4 Sons.3 maried.1Daughter maried, 6
grandkids with 3 on the way.

Favorite Activities: Spending time with my wife and family. Riding my
horse comes after them.
Anne Hege
Email: hecorp@ida.net
Location: Aberdeen, Idaho
Birthdate: 7/26
Date of Onset/Diagnosis: Onset -- 5/99 -- Diagnosis None firm; "probable" stills - 9/99
Other Health Conditions: none
Surgeris due to Still's: none
Current Meds: Naproxyn
Occupation: Teacher
Family: Husband, three adult children
Favorite Activities: Reading, computer, learning foreign languages, traveling, family getting together

Rio Davis
Email: cdavis@cache.net
Location:Hyde Park, Utah
Birthdate:1-26-82
Date of Onset/Diagnosis:November 1998
Other Health Conditions: No, perfectly healthy
Surgeris due to Still's: nope
Current Meds: Prednisone - 10 mg; Methotrexate 10 mg - weekly
Occupation: student
Family: I am Rio's mom. We have seven children. Six boys and one girl. Rio is our third boy.
Favorite Activities: He used to love all sports and played on school and church teams. Now he gets sick for a day after he plays